Blog
Monday, 08 October 2018 00:00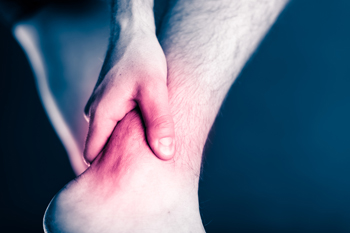 The tendon that links the calf muscles to the heel bone is referred to as the Achilles tendon or the calcaneal tendon. It is known to be the largest tendon in the body and allows activities such as pointing and flexing to be possible. This function is necessary to walk, run, and jump, and if the Achilles tendon should endure a tear, these activities would be difficult to accomplish. There are several reasons why this particular tendon may become injured, including pushing off suddenly while beginning to run, overcompensation the tendon may undergo if a fall should occur, or suddenly stepping off of a curb. The symptoms that are associated with this condition typically include severe pain and discomfort in the back of the heel, an inability to stand on the tiptoes in addition to not being able to point and flex the toes. If you have endured an injury and you feel the Achilles tendon is torn, please speak with a podiatrist as quickly as possible so the correct treatment can begin.
Achilles tendon injuries need immediate attention to avoid future complications. If you have any concerns, contact one of our podiatrists of Sutera and Jones Surgical Podiatry. Our doctors can provide the care you need to keep you pain-free and on your feet.
What is the Achilles Tendon?
The Achilles tendon is a tendon that connects the lower leg muscles and calf to the heel of the foot. It is the strongest tendon in the human body and is essential for making movement possible. Because this tendon is such an integral part of the body, any injuries to it can create immense difficulties and should immediately be presented to a doctor.
What are the symptoms of an Achilles Tendon Injury?
There are various types of injuries that can affect the Achilles tendon. The two most common injuries are Achilles tendinitis and ruptures of the tendon.
Achilles Tendinitis Symptoms
Inflammation
Dull to severe pain
Increased blood flow to the tendon
Thickening of the tendon
Rupture Symptoms
Extreme pain and swelling in the foot
Total immobility
Treatment and Prevention
Achilles tendon injuries are diagnosed by a thorough physical evaluation, which can include an MRI. Treatment involves rest, physical therapy, and in some cases, surgery. However, various preventative measures can be taken to avoid these injuries, such as:
Thorough stretching of the tendon before and after exercise
Strengthening exercises like calf raises, squats, leg curls, leg extensions, leg raises, lunges, and leg presses
If you have any questions please feel free to contact one of our offices located in Media and Glen Mills, PA. We offer the newest diagnostic tools and technology to treat your foot and ankle needs.
Read more about Achilles Tendon Injuries
Monday, 01 October 2018 00:00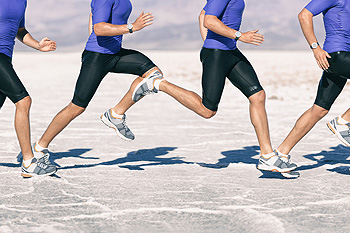 Research has shown the majority of people who enjoy running and jogging will experience a minimum of one injury per year. This is due to improper training techniques or failing to warm the muscles up adequately before running. The thought of injuries incurred while running, will typically affect most joggers negatively, depending on the severity of the injury. Serious mishaps may represent mandatory time off from this sport, so proper healing can commence. Some of the injuries that are feared is Achilles tendinitis, which generally affects the back of the heel and calf. This may be able to prevent by stretching the Achilles tendon, and this is often accomplished by standing on a step and raising the heel up, followed by lowering it down. Additionally, shin splints is a common injury that many runners endure, and this may be prevented by wearing the correct shoes while running, in addition to strengthening the calves. Please speak with a podiatrist if you would like additional information about how to prevent running injuries.
All runners should take extra precaution when trying to avoid injury. If you have any concerns about your feet, contact one of our podiatrists of Sutera and Jones Surgical Podiatry. Our doctors will treat your foot and ankle needs.
How to Prevent Running Injuries
There are a lot of mistakes a runner can make prior to a workout that can induce injury. A lot of athletes tend to overstretch before running, instead of saving those workouts for a post-run routine. Deep lunges and hand-to-toe hamstring pulls should be performed after a workout instead of during a warmup. Another common mistake is jumping into an intense routine before your body is physically prepared for it. You should try to ease your way into long-distance running instead of forcing yourself to rush into it.
More Tips for Preventing Injury
Incorporate Strength Training Into Workouts - This will help improve the body's overall athleticism
Improve and Maintain Your Flexibility – Stretching everyday will help improve overall performance
"Warm Up" Before Running and "Cool Down" Afterward – A warm up of 5-10 minutes helps get rid of lactic acid in the muscles and prevents delayed muscle soreness
Cross-Training is Crucial
Wear Proper Running Shoes
Have a Formal Gait Analysis – Poor biomechanics can easily cause injury
If you have any questions, please feel free to contact one of our offices located in Media and Glen Mills, PA. We offer the newest diagnostic and treatment technologies for all your foot care needs.
Read more about Preventing Running Injuries