Monday, 15 October 2018 00:00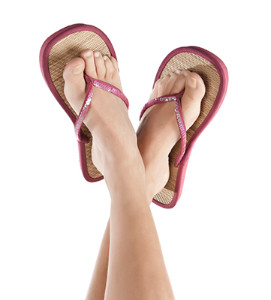 Recent research has shown that wearing specific types of flip flops may be beneficial in relieving some of the the discomfort that is associated with plantar fasciitis. There are several types of flip flops that may offer proper arch support, are easily worn, and are convenient to wear. When choosing to purchase this type of shoe, the importance of looking for specific features may be crucial in maintaining comfort and stability that is needed for daily activities. These may include insuring that there is a deep area the heel can fit comfortably in, in addition to having the arch supported properly. If you are afflicted with plantar fasciitis, it's suggested to speak with a podiatrist who can properly evaluate this ailment and advise you on correct treatment options.
Flip-flops are not always the best choice of footwear. If you have any concerns about your feet or ankles, contact one of our podiatrists from Sutera and Jones Surgical Podiatry. Our doctors will assist you with all of your foot and ankle needs.
Flip-Flops and Feet
When the weather starts warming up, people enjoy wearing flip-flops. Flip-flops are comfortable, stylish, and easy to slip on and off; they're perfect for any summer beach goer. However, these shoes can cause harm to the feet.
How Can Flip-Flops Affect Me Long-Term?
Ankle problems
Hip problems
Lower back problems
Pain in the balls of the feet
Problems with foot arches
Changes in the way you walk
Are there injuries associated with flip-flops?
Yes. Since flip-flops are relatively weak and do not provide the same amount of support as sneakers, people who wear flip-flops regularly are more susceptible to injuries. On top of that, the open nature of the shoe makes your feet more prone to other problems, such as cuts and even infections. Common injuries and ailments include:
Sprained ankles
Blisters
Infections
Cuts and Scrapes
I like wearing flip-flops, are there safe alternatives?
When buying flip-flops, try to find ones that have sturdy soles and that are made of high quality materials that will support for your feet. These flip-flops will cost more, but will also last longer as a result.
If you have any questions please feel free to contact one of our offices located in Media and Glen Mills, PA. We offer the newest diagnostic and treatment technologies for all your foot and ankle needs.
Read more about Flip Flops and Feet
Monday, 08 October 2018 00:00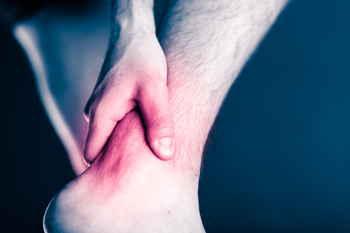 The tendon that links the calf muscles to the heel bone is referred to as the Achilles tendon or the calcaneal tendon. It is known to be the largest tendon in the body and allows activities such as pointing and flexing to be possible. This function is necessary to walk, run, and jump, and if the Achilles tendon should endure a tear, these activities would be difficult to accomplish. There are several reasons why this particular tendon may become injured, including pushing off suddenly while beginning to run, overcompensation the tendon may undergo if a fall should occur, or suddenly stepping off of a curb. The symptoms that are associated with this condition typically include severe pain and discomfort in the back of the heel, an inability to stand on the tiptoes in addition to not being able to point and flex the toes. If you have endured an injury and you feel the Achilles tendon is torn, please speak with a podiatrist as quickly as possible so the correct treatment can begin.
Achilles tendon injuries need immediate attention to avoid future complications. If you have any concerns, contact one of our podiatrists of Sutera and Jones Surgical Podiatry. Our doctors can provide the care you need to keep you pain-free and on your feet.
What is the Achilles Tendon?
The Achilles tendon is a tendon that connects the lower leg muscles and calf to the heel of the foot. It is the strongest tendon in the human body and is essential for making movement possible. Because this tendon is such an integral part of the body, any injuries to it can create immense difficulties and should immediately be presented to a doctor.
What are the symptoms of an Achilles Tendon Injury?
There are various types of injuries that can affect the Achilles tendon. The two most common injuries are Achilles tendinitis and ruptures of the tendon.
Achilles Tendinitis Symptoms
Inflammation
Dull to severe pain
Increased blood flow to the tendon
Thickening of the tendon
Rupture Symptoms
Extreme pain and swelling in the foot
Total immobility
Treatment and Prevention
Achilles tendon injuries are diagnosed by a thorough physical evaluation, which can include an MRI. Treatment involves rest, physical therapy, and in some cases, surgery. However, various preventative measures can be taken to avoid these injuries, such as:
Thorough stretching of the tendon before and after exercise
Strengthening exercises like calf raises, squats, leg curls, leg extensions, leg raises, lunges, and leg presses
If you have any questions please feel free to contact one of our offices located in Media and Glen Mills, PA. We offer the newest diagnostic tools and technology to treat your foot and ankle needs.
Read more about Achilles Tendon Injuries
More...