Monday, 24 June 2019 00:00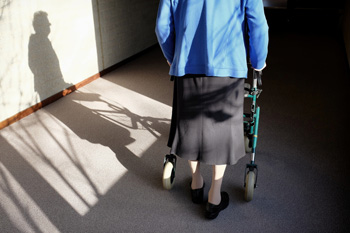 Many elderly people who have fallen may find it difficult to get up. This often happens if there are existing medical conditions or if a serious injury has occurred. There are methods that can be implemented that can help reduce the risk of falling. These include installing grab bars in the bathroom and shower area, improving lighting in the house, and removing any clutter that may be present. Research has indicated that it is beneficial for seniors to practice a gentle exercise routine, as this is helpful in developing balance and flexibility. Additionally, seniors who have their vision checked regularly may be less likely to experience falling. If you would like more information about how falling can affect the feet, please consult with a podiatrist.
Preventing falls among the elderly is very important. If you are older and have fallen or fear that you are prone to falling, consult with one of our podiatrists from Sutera and Jones Surgical Podiatry. Our doctors will assess your condition and provide you with quality advice and care.
Every 11 seconds, an elderly American is being treated in an emergency room for a fall related injury. Falls are the leading cause of head and hip injuries for those 65 and older. Due to decreases in strength, balance, senses, and lack of awareness, elderly persons are very susceptible to falling. Thankfully, there are a number of things older persons can do to prevent falls.
How to Prevent Falls
Some effective methods that older persons can do to prevent falls include:
Enrolling in strength and balance exercise program to increase balance and strength
Periodically having your sight and hearing checked
Discuss any medications you have with a doctor to see if it increases the risk of falling
Clearing the house of falling hazards and installing devices like grab bars and railings
Utilizing a walker or cane
Wearing shoes that provide good support and cushioning
Talking to family members about falling and increasing awareness
Falling can be a traumatic and embarrassing experience for elderly persons; this can make them less willing to leave the house, and less willing to talk to someone about their fears of falling. Doing such things, however, will increase the likelihood of tripping or losing one's balance. Knowing the causes of falling and how to prevent them is the best way to mitigate the risk of serious injury.
If you have any questions, please feel free to contact one of our offices located in Media and Glen Mills, PA. We offer the newest diagnostic and treatment technologies for all your foot care needs.
Read more about Falls Prevention
Monday, 17 June 2019 00:00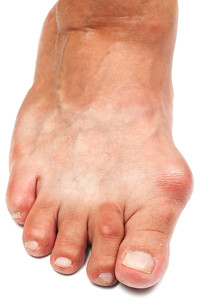 A bunion signifies a structural bone disorder within the foot. You may notice a bunion if there is a bump at the base of the big toe, or a "tailor's bunion" if there is a bump at the bottom of the little toe. There are many ways to alleviate the symptoms of bunions without curing the condition. These include wearing appropriately fitted shoes, using shoe inserts, and avoiding activities that increase the pain. For a more comprehensive treatment option, you could take pain-relieving medication or receive cortisone injections. If this condition is causing pain and discomfort for the majority of the day, patients may consider surgery for permanent removal of the bunion. If you believe you may have a bunion, it is advised that you contact a podiatrist who can offer correct treatment options.
If you are suffering from bunions, contact one of our podiatrists of Sutera and Jones Surgical Podiatry. Our doctors can provide the care you need to keep you pain-free and on your feet.
What Is a Bunion?
A bunion is formed of swollen tissue or an enlargement of boney growth, usually located at the base joint of the toe that connects to the foot. The swelling occurs due to the bones in the big toe shifting inward, which impacts the other toes of the foot. This causes the area around the base of the big toe to become inflamed and painful.
Why Do Bunions Form?
Genetics – Susceptibility to bunions are often hereditary
Stress on the feet – Poorly fitted and uncomfortable footwear that places stress on feet, such as heels, can worsen existing bunions
How Are Bunions Diagnosed?
Doctors often perform two tests – blood tests and x-rays – when trying to diagnose bunions, especially in the early stages of development. Blood tests help determine if the foot pain is being caused by something else, such as arthritis, while x-rays provide a clear picture of your bone structure to your doctor.
How Are Bunions Treated?
Refrain from wearing heels or similar shoes that cause discomfort
Select wider shoes that can provide more comfort and reduce pain
Anti-inflammatory and pain management drugs
Orthotics or foot inserts
Surgery
If you have any questions, please feel free to contact one of our offices located in Media and Glen Mills, PA. We offer the newest diagnostic and treatment technologies for all your foot care needs.
Read more about Bunions
More...