Monday, 11 June 2018 00:00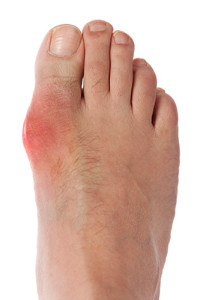 If you are experiencing severe pain in the joints surrounding the big toe, you may have a condition referred to as gout. It's considered to be a form of arthritis, and the symptoms include redness, swelling, and extreme tenderness. Gout is the result of a buildup of excess uric acid in the body, and typically collects in the joints of the foot. These bouts of pain are typically known as gout attacks, and there may be several reasons for this to develop. The most common theory revolves around the food and drink that is consumed, which typically involves the frequent ingestion of red meat and excess alcohol. Additionally, inherited genetic traits may be a determining factor in the onset of gout. It's important to consider scheduling a consultation with a podiatrist to learn about proper treatment options for gout.
Gout is a painful condition that can be treated. If you are seeking treatment, contact one of our podiatrists from Sutera and Jones Surgical Podiatry. Our doctors will treat your foot and ankle needs.
What is Gout?
Gout is a form of arthritis that is characterized by sudden, severe attacks of pain, redness, and tenderness in the joints. The condition usually affects the joint at the base of the big toe. A gout attack can occur at any random time, such as the middle of the night while you are asleep.
Symptoms
Intense Joint Pain - Usually around the large joint of your big toe, and it most severe within the first four to twelve hours
Lingering Discomfort - Joint discomfort may last from a few days to a few weeks
Inflammation and Redness -Affected joints may become swollen, tender, warm and red
Limited Range of Motion - May experience a decrease in joint mobility
Risk Factors
Genetics - If family members have gout, you're more likely to have it
Medications - Diuretic medications can raise uric acid levels
Gender/Age - Gout is more common in men until the age of 60. It is believed that estrogen protects women until that point
Diet - Eating red meat and shellfish increases your risk
Alcohol - Having more than two alcoholic drinks per day increases your risk
Obesity - Obese people are at a higher risk for gout
Prior to visiting your podiatrist to receive treatment for gout, there are a few things you should do beforehand. If you have gout you should write down your symptoms--including when they started and how often you experience them, important medical information you may have, and any questions you may have. Writing down these three things will help your podiatrist in assessing your specific situation so that he or she may provide the best route of treatment for you.
If you have any questions, please feel free to contact one of our offices located in Media and Glen Mills, PA. We offer the newest diagnostic and treatment technologies for all your foot care needs.
Read more about Everything You Need to Know About Gout
Monday, 04 June 2018 00:00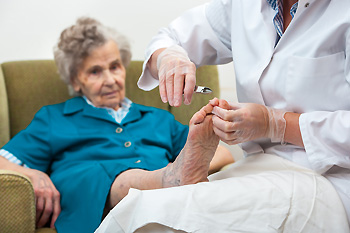 As the aging process progresses, it may be difficult for elderly people to avoid blisters and infections concerning the feet. This may be a result of poor vision which may hinder proper foot care management. Many elderly people may benefit by having a caregiver trim the toenails to ensure they are cut to a proper length. Research has shown any tools that are used should be cleaned and sanitized, which is often accomplished by using boiling water. These may include nail clippers and metal files. Taking advantage of a foot bath may aid in helping cracked skin feel more comfortable, followed by utilizing a good moisturizer to maintain softness in the skin. Measuring the feet prior to purchasing shoes is recommended for a comfortable fit in addition to wearing clean and dry socks. Please consider speaking with a podiatrist if you would like additional information on how to properly care for elderly feet.
Proper foot care is something many older adults forget to consider. If you have any concerns about your feet and ankles, contact one of our podiatrists from Sutera and Jones Surgical Podiatry. Our doctors can provide the care you need to keep you pain-free and on your feet.
The Elderly and Their Feet
As we age we start to notice many changes in our body, but the elder population may not notice them right away. Medical conditions may prevent the elderly to take notice of their foot health right away. Poor vision is a lead contributor to not taking action for the elderly.
Common Conditions
Neuropathy – can reduce feeling in the feet and can hide many life-threatening medical conditions.
Reduced flexibility – prevents the ability of proper toenail trimming, and foot cleaning. If left untreated, it may lead to further medical issues.
Foot sores – amongst the older population can be serious before they are discovered. Some of the problematic conditions they may face are:
Gouging toenails affecting nearby toe
Shoes that don't fit properly
Pressure sores
Loss of circulation in legs & feet
Edema & swelling of feet and ankles
Susceptible Infections
Diabetes and poor circulation can cause general loss of sensitivity over the years, turning a simple cut into a serious issue.
If you have any questions please feel free to contact one of our offices located in Media and Glen Mills, PA. We offer the newest diagnostic and treatment technologies for all your foot and ankle needs.
Read more about Elderly and their Feet
More...